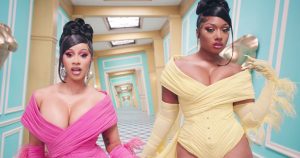 By Roblyn Powley, Media and Communication '23
If you've heard it, you know it. That slow trap beat and unmistakable refrain:
There's some w***es in this house
There's some w***es in this house
And then…

W**
A**
P***y
Cardi B and Megan Thee Stallion mince no words and leave nothing to the imagination in regard to what they've got, what they want, what they like, and what they're going to do about it. It's explicit. It's very catchy. The video that accompanies the song is a surreal swirl of color, through which Cardi and Megan rap, glide and grind. When 'WAP' hit the airwaves this summer, debuting at number 1 on the Billboard Hot 100 and setting download records, there was a wave of responses and critiques from all corners. The critical response was mainly positive, reactions of the listening public were varied, and conservative commentators were most certainly scandalized.
Both Cardi B and Megan Thee Stallion are known for, and have taken criticism over, their appearances. The women appear deliberately in the 'WAP' video, and often elsewhere, as exaggerations or caricatures of what women (especially Black women) are told by various media they should be. The rap industry in particular has always been male dominated, and there have long been criticisms of rampant misogyny in hip hop. For decades rap lyrics have provided detailed descriptions of the ideal characteristics in a woman. Sir Mix-a-Lot's search for "an itty-bitty waist and a round thing in (his) face" seems quaint when compared to other, often far more degrading, demands that can be found in the genre since its beginning.
In 'WAP' though, Cardi B. and Megan Thee Stallion flip the narrative. Lyrically, they make the demands and set the standards. "Put this p***y right in your face, swipe your nose like a credit card" isn't exactly negotiable when Cardi says it. When Megan raps "I tell him where to put it, never tell him where I'm 'bout to be" she asserts her control over the dynamics of a relationship. Verse for verse, they match or exceed the level of explicit content coming from their male peers.
In the video for 'WAP', common tropes like choreographed dance scenes and elegantly designed sets factor heavily, and at one point everyone is very wet. To say the costumes are revealing feels like a little bit of an understatement, and it's all pretty much your standard music video stuff. But all of this familiar feeling imagery is exaggerated to an extreme and as Cardi and Megan make their way through a fantasy funhouse, every frame is loaded with un-subtle, sexy symbolism. There are snakes and big cats literally everywhere, while bronzed breasts and butts adorn the walls. Absent from this crazy sex-mansion though, are actual men; the closest we get in the video are those symbolic snakes, and at least one (presumably) male tiger.
While the women dance and vamp and pose, it's obvious that they are aware of the male gaze. They get low, they do splits, they writhe, they wear vinyl. They are undoubtedly enticing and they know who's watching. But that male viewer's pleasure is secondary, because this is Cardi and Megan's sex-mansion and this track is about what they want. Cardi and Megan appear together, alone, and with female back-up dancers, leaving men to exist as only the observer, the snake, or a means to satisfaction. With their unambiguous lyrical demands and exaggerated appearances, they take the tradition of objectifying women in rap lyrics and send it directly back, reversed. You can watch, they say, but we'll decide who can come in to play.