SJFC Office of Information Technology
OIT Notification Number: 2019-70
Date: 07/11/2019
Title: OIT Security Alert – Phishing Attempt Threat Advisory: "Server warning!!!"
Description:
OIT has received reports of a recent phishing attempt with the email subject "Server warning!!!". A Phishing email is one that attempts to trick you into performing an action (click a link, provide credentials, purchase gift cards etc.) by posing as a legitimate sender. If you have received this email please click on the Phish Alert button in Outlook to report and delete this email.
A screenshot of the Phishing email is included below: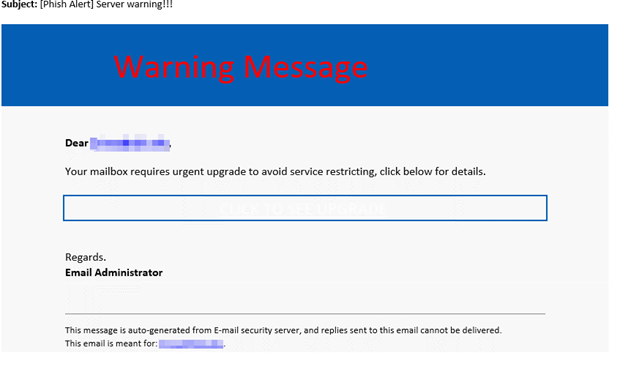 If you responded to this email, clicked on the link or have any questions related to this phishing attempt please contact the OIT Service Desk at (585) 385-8016.
Please feel free to contact us if you have any questions.
Thank you,
—————————————-
St. John Fisher College
Office of Information Technology
OIT Service Desk
(585) 385-8016
http://go.sjfc.edu/oithelp